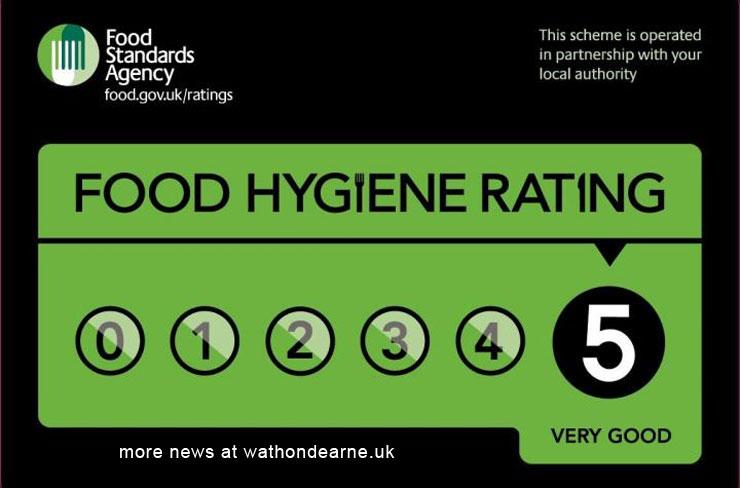 In a recent nationwide survey of food hygiene ratings, Rotherham has emerged as a standout performer, outshining all but one of its South Yorkshire counterparts. The comprehensive research examined the food hygiene ratings of 15 major towns and cities in Yorkshire, positioning Rotherham at an impressive fifth place on the list, tied with Barnsley, both boasting an average rating of 4.65 out of five.
Surprisingly, Sheffield, despite having nearly six times the number of venues compared to Rotherham, lagged behind in seventh position with a score of 4.52. Rotherham, with a modest count of 333 establishments, managed to surpass Sheffield's offerings, along with Barnsley's 404 venues.
High Speed Training, the organization behind the survey, also highlighted that Rotherham had climbed one spot since last year's rankings; exhibiting a slight score increase from 2022's rating of 4.61. These results reflect the continuous efforts of Rotherham's environmental health officers, who diligently inspect food premises across the borough to ensure the safety of residents.
The report, titled "Food Hygiene: Know the Score 2023," analyzed data from the Food Standards Agency, covering over 218,000 food establishments across England, Scotland, Northern Ireland, and Wales. Ratings are determined based on assessments of food handling hygiene, the condition of premises and facilities, and food safety management practices. As a testament to their commitment to transparency, the ratings are prominently displayed on the FSA website and often visible from outside the establishments.
With an average rating of 4.53 from nearly 11,000 premises, Yorkshire positioned itself seventh in the national rankings out of 11 regions. Notably, Northern Ireland claimed the top spot. The Food Hygiene Rating Scheme, collaboration between local authorities in England, Wales, and Northern Ireland, aims to inform customers about the adherence of businesses to food hygiene and safety standards.
Councillor Dominic Beck, Rotherham Council's cabinet member for transport and environment, expressed his satisfaction with Rotherham's performance, emphasizing the council's dedication to ensuring the safety of residents. The positive ratings serve as a testament to the meticulousness of environmental health officers and their commitment to upholding high food hygiene standards.
Dr. Richard Anderson, head of learning and development at High Speed Training, underscored the importance of maintaining robust food management procedures and everyday good practices. He emphasized that establishments with low hygiene ratings can significantly impact reputation and profitability, while those with high ratings gain a competitive advantage.
Consequently, customers are encouraged to check Food Hygiene Rating Scheme (FHRS) ratings, as they directly reflect an establishment's safety and hygiene practices.
Editor's Comment
While Rotherham's performance in the food hygiene ratings is certainly commendable, it is intriguing to see how the town has managed to outperform larger neighbouring cities like Sheffield with significantly fewer venues.
This highlights the importance of maintaining high standards across a smaller number of establishments.
Rotherham's climb in the rankings from the previous year is also worth noting, indicating a consistent commitment to improving food hygiene practices. It would be interesting to delve deeper into the specific measures and initiatives undertaken by Rotherham's environmental health officers that have contributed to this success.