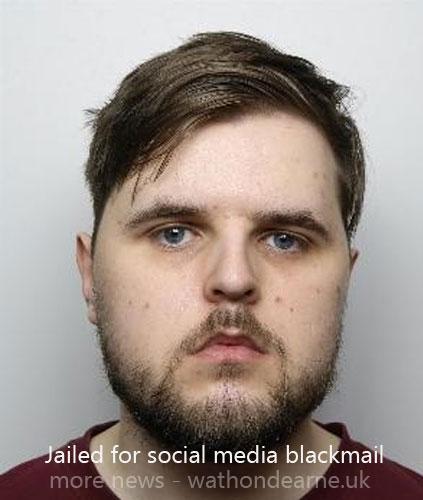 In a shocking case that has stirred immense distress among the victims involved; a man from Doncaster has been sentenced to a term of imprisonment for blackmailing multiple teenagers and young adults through various social media platforms. The culprit, Daniel Carr, aged 27 and residing on Violet Avenue, came into contact with his victims, aged between 15 and 25, on social networking sites spanning the period from 2020 to 2022.
During the proceedings, the court was apprised of Carr's actions in April 2022, when he managed to compromise the Snapchat, Instagram, and TikTok accounts of a 17-year-old boy. Once gaining unauthorized access, Carr exploited these hacked accounts to solicit explicit images from several girls and women by impersonating the account holders. Following the victims' courageous decision to report the matter to law enforcement, further investigations revealed that Carr had engaged in similar activities on numerous occasions between 2020 and 2022. On multiple instances, he coerced victims by threatening to expose explicit images to their loved ones unless they complied with his demands, which included sending him additional explicit images, performing sexual acts on camera, or paying him money.
The extent of Carr's audacity and depravity is exemplified by one particularly disturbing incident involving a 15-year-old girl. By assuming a fabricated online persona through a hacked social media account, Carr managed to manipulate the vulnerable young victim into performing sexual acts on camera.
Detective Constable Adrian Love, the officer in charge of the investigation, expressed his unequivocal condemnation of Carr's abhorrent actions, stating, "The offences committed in this case are vile and have been truly distressing for the victims. Carr used multiple social media accounts in an attempt to conceal his identity and blackmail his victims into sharing explicit images of them."
DC Love also acknowledged the invaluable role played by the victims in bringing Carr to justice, stating, "This case has involved a vast amount of digital forensic work but without the victims' bravery in coming forward, Carr could not have been brought to justice. I hope the sentence handed down provides them with a sense of justice and that they can now move on with their lives and put these incidents behind them."
Furthermore, DC Love emphasized the significance of reporting online sexual offences, urging both children and adults who fall victim to such heinous crimes to promptly notify the police. He reassured potential victims that their voices will be heard and emphasized the availability of various avenues of support. DC Love concluded by affirming the unwavering commitment of law enforcement in bringing offenders to account, asserting, "We will always do everything we can to bring those responsible to justice."
Having pleaded guilty to a total of 16 charges in Sheffield Crown Court on 19 December 2022, Carr was remanded into custody and has now been sentenced to six years in prison. Additionally, he has been issued a sexual harm prevention order, which restricts him from committing further online sexual offences, and has been placed on the sexual offenders register indefinitely.
It is crucial to note that if you have been a victim of a crime, you should not hesitate to report it by dialling 101 or using the online reporting platform. Alternatively, you have the option of providing information anonymously through Crimestoppers, either by calling 0800 555111 or utilizing their online reporting service at crimestoppers-uk.org.
For those seeking guidance and assistance concerning online child sexual abuse and exploitation, the CEOP website offers valuable resources and support.
To ensure the security of your social media and email accounts and minimize the risk of being hacked, we provide comprehensive advice on our website, which you can refer to.
The charges to which Carr pleaded guilty include:
One count of causing a female 13 or over to engage in non-penetrative sexual activity
Four counts of blackmail
Three counts of unauthorised computer access with intent to commit other offences
One count of sending a letter / communication / article conveying indecent / offensive messages Two counts of possessing indecent images of children
One count of possessing extreme pornographic images
Editor's Comment:
The case of Daniel Carr is a chilling reminder of the dark side of social media and the potential for exploitation and harm that exists in the digital realm. Carr's actions, which involved hacking into multiple accounts and blackmailing vulnerable individuals, have caused immeasurable distress to his victims. It is encouraging to see that the victims displayed immense courage in coming forward, enabling law enforcement to bring Carr to justice.
This case underscores the importance of maintaining online safety and security. It serves as a stark reminder of the need for individuals to be vigilant about protecting their personal information and maintaining strong cyber security practices. It is crucial for social media platforms and law enforcement agencies to work hand in hand to combat online sexual offences and provide support to victims.
The sentence handed down to Carr reflects the gravity of his crimes and sends a strong message that such despicable behaviour will not be tolerated. It is hoped that the victims find some solace in this verdict and can begin the process of healing and moving forward with their lives.
Instances like these serve as a stark reminder that we must remain vigilant in safeguarding ourselves and our loved ones in the digital age. By reporting any suspicious activities and seeking support from authorities, we can contribute to the fight against online sexual offences and protect the vulnerable from falling prey to such predators.
Let us collectively work towards creating a safer digital environment, where individuals can interact without fear, and where justice is served to those who exploit and harm others online.