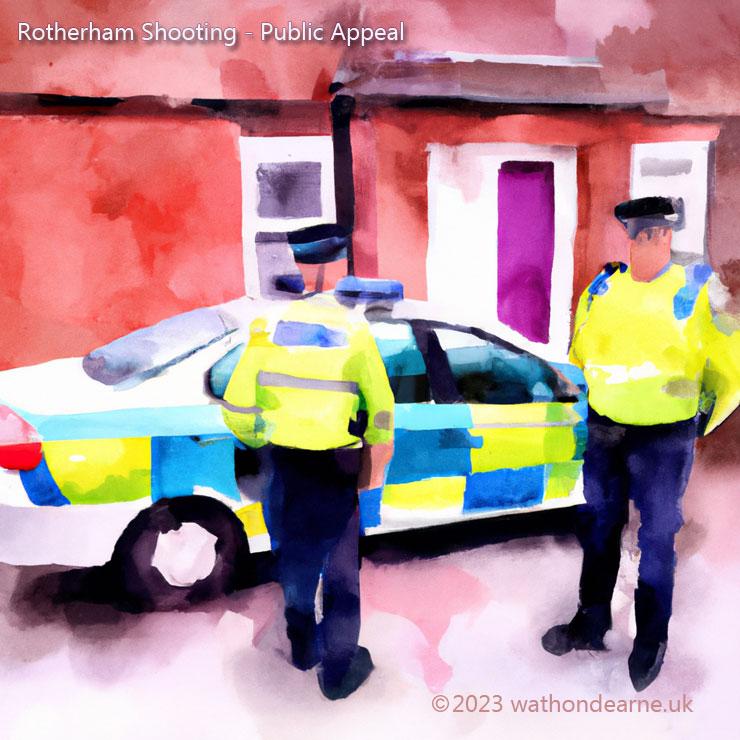 Rotherham Police Appeals for Public Assistance in Shooting Investigation
The Rotherham Police Department is appealing to the public for assistance in an ongoing investigation into a recent shooting incident. Detectives have charged a suspect in connection with the incident and are urging community members to come forward with any information that could aid their inquiries.
The incident took place on Winifred Street, near the junction with Fisher Close, at approximately 2:30 pm on Saturday, 18 March 2023. Officers responded to reports of a shooting and discovered a 22-year-old man with gunshot wounds. The victim was promptly taken to the hospital, where he received medical attention and has since been released.
Abdullah Ishaq, a 21-year-old resident of Doncaster Road, Rotherham, has been charged with attempted murder in relation to the incident. Mr. Ishaq is scheduled to appear at Sheffield Crown Court on 21 April 2023 to face these charges.
While progress has been made in the investigation, detectives are keen to obtain any additional information that may assist them in their inquiries. In particular, they are interested in hearing from anyone who may have witnessed a black Audi A3 suspected to have been parked in the vicinity at the time of the incident.
Members of the public who have relevant information or dash-cam footage are encouraged to come forward and provide their accounts. They can do so by reporting online via our website, engaging in a live chat session, or by calling 101 and quoting incident number 545 of 18 March 2023.
We understand that some individuals may have concerns about revealing their personal details while sharing information. For those who prefer to remain anonymous, we have partnered with the independent charity Crimestoppers. Crimestoppers offers a secure and confidential platform for individuals to pass on any knowledge they may have. Contact their UK Contact Centre at the toll-free number 0800 555 111, or alternatively, visit Crimestoppers-uk.org to complete a simple and secure anonymous online form.
The Rotherham Police Department would like to stress the importance of community cooperation in helping to maintain safety and security in our neighbourhoods. We believe that by working together, we can ensure a safer and more secure environment for all residents. Your assistance in this matter is greatly appreciated.
EDITOR'S COMMENT:
This tragic incident of a shooting in Rotherham has raised concerns within the community, and it is crucial that the public comes forward with any information they may have to aid the ongoing investigation. The cooperation of residents is paramount in ensuring the safety and security of our neighbourhoods.
The police have taken swift action by charging a suspect, Abdullah Ishaq, with attempted murder. The upcoming court proceedings will shed more light on the case and allow justice to take its course.
In their appeal for information, the police have specifically highlighted the importance of any sightings or knowledge related to a black Audi A3 that may have been parked nearby during the incident. Even the smallest details can contribute significantly to the investigation, so it is essential that witnesses or anyone with relevant information comes forward promptly.
The Rotherham Police Department is providing various avenues for reporting information, including an online portal, live chat, and the traditional helpline number. In recognition of the concerns individuals may have about sharing personal details, the independent charity Crimestoppers is also available to offer a secure and anonymous platform for providing information.
It is incumbent upon all members of the community to stand together against criminal activity and work collaboratively with law enforcement agencies to maintain a safe and secure environment. The timely response and cooperation of the public can play a vital role in helping the police bring the perpetrators to justice and prevent similar incidents in the future.