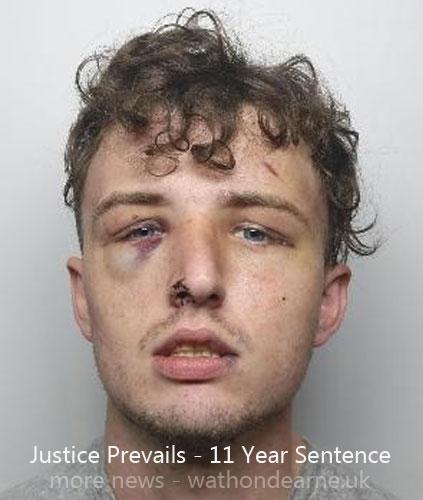 A man who violently attacked a woman with a knife, smashed pint glasses over her head, and threw kitchen appliances while shouting "kill her and take her gold" has been handed a significant sentence of 11 years in prison for his heinous actions.
Joshua Deere, a 24-year-old resident of Borrowdale Close in Doncaster, appeared before Sheffield Crown Court last week (Friday, June 9), where he faced charges of aggravated burglary. Deere's courageous victim, who displayed remarkable bravery by providing crucial evidence and offering unwavering support throughout the investigation, recounted to the officers the horrifying incident that took place on November 5, 2021. Deere had smashed a window and unlawfully entered a property on St Peter's Avenue, where two women were present, and commenced his attack.
Brandishing a knife, Deere menacingly approached the victim, lunging at her and inflicting a deep cut on her left arm. After assaulting her at the top of the stairs, the victim tumbled to the bottom in an attempt to escape her assailant. However, Deere pursued her into the kitchen, relentlessly continuing his assault. He viciously smashed glasses over her head, hurled kitchen appliances at her, and caused severe wounds to her hands using the knife. Disturbed by something, Deere and his accomplices abruptly fled the scene, leaving the victim with serious injuries that required immediate medical attention.
During the investigation, Crime Scene Investigation (CSI) officers discovered traces of Deere's blood, alongside the victim's, on a knife retrieved from the property. This critical evidence definitively linked Deere to the crime scene, prompting an intensive manhunt to bring him to justice.
Following a public appeal, Joshua Deere was apprehended and subsequently charged, ultimately pleading guilty to the offenses levelled against him. As a result, he has been sentenced to 11 years in prison for aggravated burglary. Additionally, Deere received a sentence of four and a half years for harassment and three years for a separate burglary charge. These sentences will run concurrently.
PC Alex Fuller, the investigating officer from the Doncaster Fortify Team, expressed his admiration for Deere's courageous victim. He commended her for her immense bravery and unwavering determination to ensure that Deere faces the consequences for his despicable and cowardly actions. PC Fuller stated, "Deere subjected his victim to a horrendous and terrifying ordeal, and I hope that his sentencing brings her some solace and helps her move forward with her life."
It is through the bravery of individuals like the victim and the dedication of law enforcement officers that justice can prevail and society can stand united against such acts of violence. The sentencing of Joshua Deere serves as a stark reminder that such abhorrent behaviour will not be tolerated and those responsible will face the full force of the law.
Editor's Comment:
The case of Joshua Deere is a chilling reminder of the brutality that can occur within our communities. The actions of Deere, who viciously attacked a woman in her own home, leaving her with severe injuries, are truly reprehensible. We commend the victim for her immense bravery in coming forward and providing crucial evidence to ensure that Deere was held accountable for his crimes.
It is important to recognize the dedication and professionalism of the investigating officers, particularly PC Alex Fuller, who worked tirelessly to gather evidence and build a strong case against Deere. Their commitment to seeking justice is commendable and serves as a reminder of the invaluable role that law enforcement plays in our society.
This case also highlights the importance of public appeals and the collaboration between law enforcement and the community. The successful arrest of Deere was made possible through the assistance and cooperation of the public, demonstrating the power of collective action in the pursuit of justice.
The significant sentence handed down to Deere, totalling 11 years in prison for aggravated burglary, sends a strong message that violent crimes will be met with severe consequences. It is our hope that this sentencing brings a measure of closure and healing to the victim, allowing her to move forward with her life after enduring such a traumatic ordeal.
It is essential that society remains vigilant in condemning and addressing acts of violence, while providing support and resources to those affected by such crimes. By doing so, we can strive to create safer communities where everyone can live without fear.