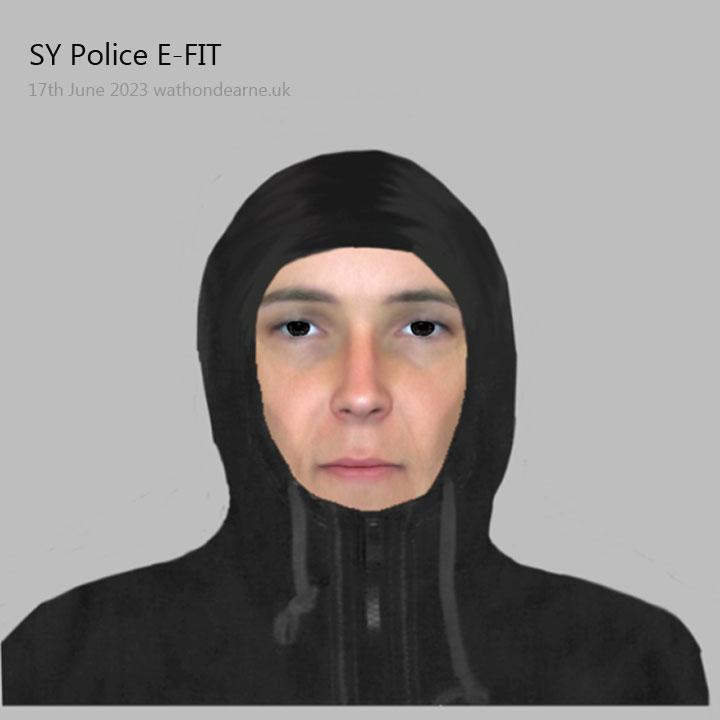 On the green and pleasant meadows of our own Wath-upon-Dearne, Rotherham, the strong arm of the law is looking for a gentleman who appears to have seriously misplaced his manners and sense of decency. There's been a regrettable incident of a man running rather counter to the decent adult way, with a particularly unsavoury display in a quiet local park.
During the gentle summer's eve of May 1st, around the hour of 10:30pm, a lady of the community found herself in an uncomfortable encounter on Station Road in the village. A male figure, previously lurking in the leafy shadows, ventured forth, decidedly indecent and with an unfathomable determination to perform a lewd act. Quite rightly disturbed, the woman made her departure, with the man trailing her exit until she left the safety of the park.
With the assistance of the witness, the constabulary have managed to render an e-fit image of the person they are tremendously keen to locate. Picture, if you will, a chap described as white, roughly 5ft 10ins in height, and approximating an age of 22 to 25 years. His attire – a green Nike hooded sweatshirt with the hood up, matching black Nike jogging trousers and black shoes.
Your local officers are appealing to your sense of community and desire to uphold that indomitable British spirit. If this description rings any bells, or you possess any nuggets of information that could bring this sorry saga to a close, do get in touch. Use their live chat, their online portal, or the traditional method of giving them a bell at 101 quoting incident number 1020 of 2 May 2023. You can easily access to the live Police chat and online portal to discuss any information with them.
And, for the love of community, if you're living locally and have any CCTV or video doorbell recordings that could contain a glimpse of this individual, please be a good neighbour and forward it to the constabulary. The number, once again, is 101.
This unsavoury incident offers a stark reminder that our shared public spaces ought to remain just that – a place of safety and community, free from such displays. As the great British public, let's rally together, assist our boys and girls in blue, and restore the dignity and tranquillity to our parks.
Editor's comment:
We are confronted yet again with a distasteful incident that has unsettled the peace and tranquillity of our local community. As we dissect the events on that fateful May evening in Wath-upon-Dearne, it is crucial that we not lose sight of our role as informed and responsive citizens. While the circumstances are indeed unfortunate and distressing, the situation presents a valuable opportunity for us all to demonstrate our commitment to safety and respect for one another.
The role of the press here is to facilitate communication, acting as a bridge between the police force and our readership. As such, it is our responsibility to ensure that this information is disseminated fairly and accurately, without bias or distortion. We stand by the local constabulary in their pursuit of justice and encourage our readers to do the same, not just in this case but in every instance where our community's safety is compromised.
Let this situation serve as a stark reminder that the responsibility of ensuring safety and respect in our public spaces falls on all of us. In times of unsettling incidents, it is the community's response that determines the course of action. We urge our readers to remember their part in this, from staying vigilant in the community to reporting any pertinent information, no matter how minor it may seem.
In closing, this episode illustrates the importance of a united community in ensuring public safety. By standing together, sharing information, and offering support where we can, we make our community a safer, more harmonious place to live. Let's continue to uphold the spirit of unity and mutual respect that defines us as a community.