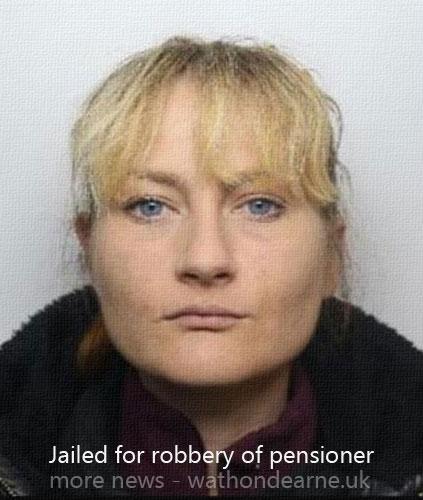 In a despicable act of violence, a heartless assailant has been sentenced to 14 years in prison for subjecting a defenceless 94-year-old resident to a brutal assault and robbery in their own home. The perpetrator, Amanda Hallows, deliberately targeted the property of this lone inhabitant in the Hargreaves area of the city. Displaying a complete disregard for human life, Hallows forcibly entered the premises and launched a savage attack on the resident using a wooden chair, rendering them unconscious.
The harrowing incident took place on the morning of May 24th last year, when the victim responded to a loud knock at the door. Hallows, requesting water, was given a bottle but unexpectedly demanded a glass instead, swiftly becoming aggressive and forcing her way inside. She callously pushed the resident, gripping their shoulder and eye, causing them to fall to the ground. It was there, in a vulnerable state, that Hallows ruthlessly struck the victim with a wooden chair, warning that any movement would result in further harm. Tragically, the victim lost consciousness due to the severity of the assault.
Upon regaining consciousness, the victim found their home ransacked and immediately sought help. The assault had left them with a laceration on their forehead, necessitating medical attention. Hallows, in her relentless pursuit of ill-gotten gains, had absconded with the victim's reading glasses, wallet, bank cards, and various other items, including coins.
The offender, 37-year-old Amanda Hallows, residing in Tithe Barn Way, Sheffield, was subsequently identified and charged with robbery. Admitting her guilt, she faced sentencing at Sheffield Crown Court on Thursday, June 15th, receiving a well-deserved 14-year prison term. It is with a heavy heart that this sentencing coincides with the recent passing of the victim, a poignant reminder of the devastation caused by such acts of violence.
Leading the investigation, Officer Stephanie Sales lauded the victim's unwavering courage throughout the process and extended condolences to their grieving family. The victim's resilience and determination were commendable, as they faced their attacker in court with fortitude. Gratitude was also expressed for the victim's support network, whose assistance proved invaluable during this distressing time.
The reprehensible conduct displayed by Hallows is utterly unacceptable, and it is my fervent hope that today's sentencing serves as a resounding message that such behavior will not be tolerated within our community. Let it be known that acts of violence and robbery against vulnerable members of society will be met with the full force of justice. Together, we must stand firm against such atrocities, safeguarding our community and protecting the most vulnerable among us.
Editor's Comment:
This shocking incident serves as a stark reminder of the depravity that exists in our society. The sentencing of Amanda Hallows is a step towards justice, but it cannot undo the trauma inflicted upon the victim. Our thoughts go out to the victim's family, who have tragically lost their loved one. It is crucial that we continue to support and protect the vulnerable members of our community, and ensure that those who commit such heinous acts are held accountable for their actions.