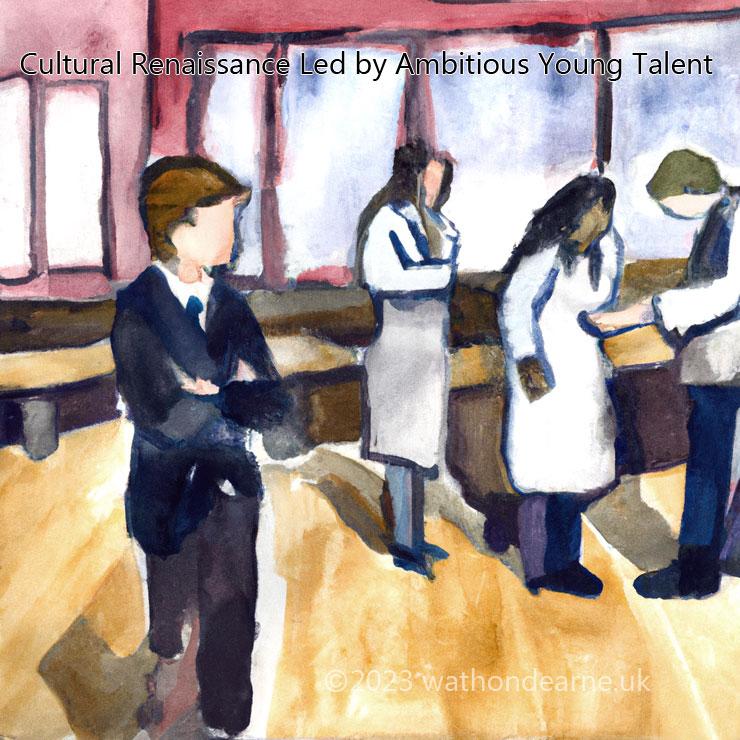 In an exciting development for Rotherham's cultural landscape, 14 talented individuals between the ages of 16 and 25 have been enlisted to spearhead the town's transformation as part of the visionary Children's Capital of Culture 2025 initiative.
The latest cohort of trainees for the Children's Capital of Culture program has been unveiled, and they are already collaborating with three influential organizations in Rotherham to deliver captivating public events and help shape the future vision of their beloved hometown. Through this endeavour, they are not only acquiring invaluable skills and experience in the creative industries but also paving the way for an inclusive and vibrant future for Rotherham.
Among the newly appointed Festival Makers at FLUX Rotherham are Sophie Ellingham, Lottie Howe, and Maria Sofragiu, who have embarked on a year-long contract. These enterprising young individuals are hard at work devising a series of innovative summer events aimed at engaging Rotherham's youth and marginalized communities, offering them a tantalizing glimpse into what being the Children's Capital of Culture in 2025 will entail. Seasoned creative mentors are lending their expertise to guide the trainees in turning their imaginative ideas into tangible realities.
Lottie, a 19-year-old professional footballer hailing from Rotherham, spoke enthusiastically about her traineeship, saying, "After recently facing redundancy, this opportunity was simply too good to pass up. It's incredibly empowering to be given such creative freedom and to work within an environment that genuinely values our opinions and ideas on how to improve Rotherham for young people like us. Having always been a festival enthusiast, now being able to organize them is truly eye-opening! I can't contain my excitement for all the remarkable events we have in store for Rotherham this year."
Additionally, nine trainees have embarked on a 14-week training program at Wentworth Woodhouse, where they are honing their skills in advanced digital technology, photography, film production, editing, and acting, all in preparation for an immersive House of Future Creative's event set to take place on June 21st, 2023, at Wentworth.
Brandon, a dedicated charity volunteer, stumbled upon this opportunity through a work coach after facing rejection from 20 previous job applications. Overwhelmed with gratitude, he exclaimed, "I never imagined I could be here! I'm learning so much, and I'm thrilled to be part of the effort to make Rotherham the Children's Capital of Culture. I've discovered a newfound love for being in front of the camera and am now aspiring to become a presenter."
Building upon the success of last year's training program, three exceptional individuals from the 2022 cohort have been recruited as Engagement Assistants for the Rotherham Metropolitan Borough Council in 2023, assuming greater responsibilities. Artist Adrian, 20, marketing graduate Christopher, 25, and actress Abi, 20, are now part-time employees at the Council, diligently spreading the word about Rotherham's forthcoming status as the Children's Capital of Culture in 2025. They are leading participatory workshops and flagship projects designed to infuse the borough with art and culture, all while igniting a sense of pride and aspiration within the community.
Christopher elucidated their role, stating, "We are shaping this Children's Capital of Culture vision from the ground up. As the young people of Rotherham, we ardently desire this title for our hometown, and we are being granted the autonomy to drive this vision forward."
Cllr David Sheppard, Rotherham Council's Cabinet Member for Social Inclusion, expressed his enthusiasm for the project, explaining, "The ultimate goal of the Children's Capital of Culture initiative is to empower more children and young people across the borough, nurturing their creativity and ambition to forge a bold and ambitious future. By fostering a skilled young workforce, we aim to make a genuine difference to Rotherham's future while instilling a heightened sense of pride and aspiration within our community."
Notably, the paid training program has become a reality thanks to generous funding from the UK Shared Prosperity Fund, underlining the government's commitment to empowering local communities and supporting the aspirations of young people in Rotherham.
Editor's Comment:
The recruitment of these talented young individuals to drive Rotherham's cultural transformation is a significant step for the Children's Capital of Culture 2025 program. Their dedication and creative freedom, supported by experienced mentors, highlight the investment in Rotherham's youth.
The success of previous trainees and the involvement of esteemed organizations demonstrate the long-term impact of these initiatives. With financial support from the UK Shared Prosperity Fund, Rotherham Council is fostering a vibrant cultural landscape and empowering the next generation.