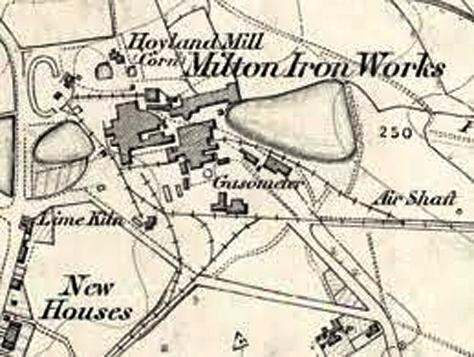 Latest news in Yorkshire: July 13, 2018 02:51:43 PM
This July archaeologists will be working at Forge playing fields in Milton,
close to Elsecar, to uncover one of the great forgotten ironworks of the
north.
The Milton Ironworks were opened in the late 1790's by the Walker family of
Rotherham. The site was owned by the Fitzwilliam family of Wentworth
Woodhouse, only a few miles away, and it was named Milton after the
Fitzwilliam heir, Viscount Milton. The site changed hands several times, and
was run by various ironmasters, before finally closing in 1883.
For the first time archaeologists will be excavating part of the site to see
what remains of the ironworks underground. Using old maps and the latest in
geophysical technology, archaeologists will target areas which might provide
clues to the past. Working with local schools from Barnsley and Rotherham,
and members of the local community, archaeologists will uncover forgotten
history and help Barnsley to discover and record it for the future.
Megan Clement, of Great Place Wentworth and Elsecar, said "Over 135 years
ago, on what is now a playing field in Milton, would've been an incredible
whirlwind of sound and noise from the blast furnaces at the ironworks. The
structures that were being crafted were world famous and being shipped
around the globe. They included Southwark Bridge over the Thames in London
and bridges designed by Marc Brunel. They were phenomenal feats of
industry."
Councillor Roy Miller, Cabinet Spokesperson for Place said, "The
investigation is an fantastic opportunity for local people of all ages to
learn about their heritage. They will have the chance to get hands-on with
the past and work with archaeologists and experts from Barnsley Museums over
a two week period.
"The work being carried out at Milton Ironworks is part of an exciting
programme of activities which will be happening over the next few years for
local residents and the people of Barnsley to get involved in and help make
history."
The excavation is part of the Great Place Wentworth and Elsecar project (a
three-year Heritage Lottery and Arts Council England funded project) and the
Elsecar Heritage Action Zone, a partnership between Historic England and
Barnsley Museums.
The community dig will take place from Saturday 21 July to Saturday 28 July.
There will be the opportunity to visit the site for tours on Sunday 22 July
at Milton Gala. Places on the excavation must be booked in advanced, but are
free of charge. For more information and to find out how you can get
involved contact Elsecar Heritage centre on 01226 740203
See our Yorkshire Photography:
[catlist name=Latest News]